275 Amp Hour Battery Idle Reduction System 
Harrison can provide power for your truck while it is idling with Harrison hydraulic generators and now provides power when your truck is off, with Harrison hPower Idle Reduction System. The Harrison hPower Idle Reduction System provides power for all your DC requirements, while satisfying idle mitigation regulations, by seamlessly integrating with the apparatus chassis drivetrain system and electrical system. With the Harrison hPower Idle Reduction System, fleets can reduce fuel costs, reduce excessive engine wear and scene noise, while also promoting cleaner air for the environment and providing operators with cab comfort without running the vehicle's engine.
Benefits of hPower
Extends the life of the Chassis
Reduces DPF regenerations
Reduces fuel consumption
Simplified installation
Reduces NOx output
May qualify for federal incentives
The benefits are beyond compelling not only in terms of improved apparatus wear and safety but equally so with reduced emissions for the environment.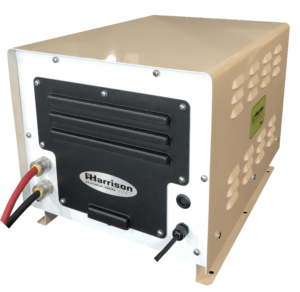 The apparatus shall be equipped with a Harrison Hydra-Gen hPower 275 Amp-hour Idle Control System (ICS).
The ICS shall be provided in a single environmentally protected enclosure that will house all the required components.
The following components shall be included with the ICS:
(2) LiFePO4 lithium iron phosphate batteries
(1) Battery Control Module
(1) System Control Module
(1) Battery charger
(1) External display
The ICS shall have 275-Ah of usable energy
The ICS shall stationary charge via an OEM supplied 20-amp shore power connector.
The ICS will be charged when mobile via a Harrison generator, an inverter, or the OEM apparatus alternator.
The ICS shall provide removable service access panels to all serviceable components.
The ICS shall have a 2" riser to protect it from water intrusion.
The ICS external display shall show the state of charge of the batteries.
When properly installed, the ICS shall be warranted for a period of not less than (1) year.