Hydraulic Generator Modular System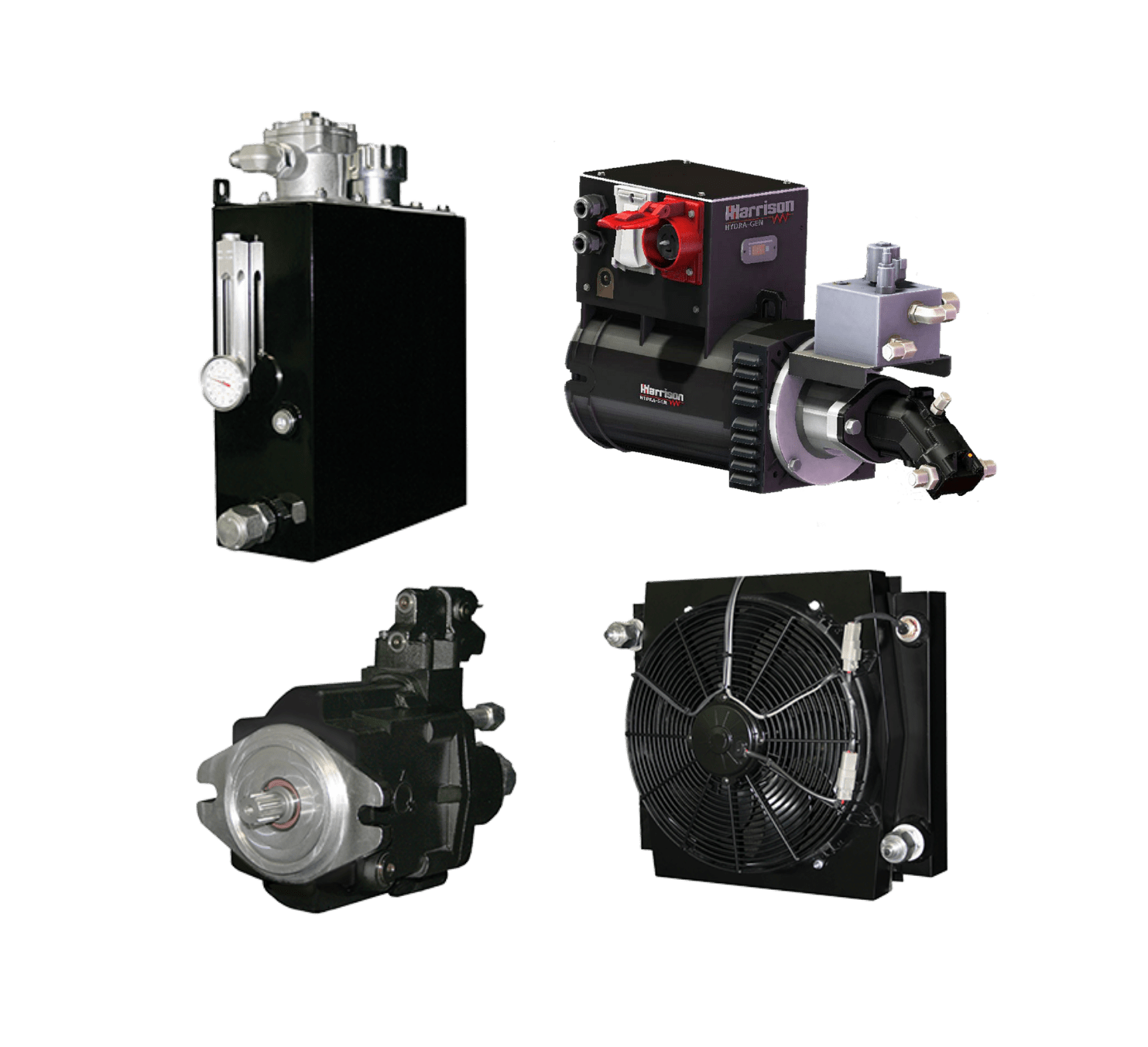 Ratings Available: 3.0 kW thru 40 kW
Harrison Modular Component Series (MCS) units are the individual components of our standard generators, without the frame. We can mix and match our standard components to put together a custom package to meet your individual needs. Put components altogether, or place them in separate areas to save space. When space is at a PREMIUM, nobody else can respond with a Modular Component Series like Harrison.
If you already have a hydraulic system in place or want to provide the hydraulic reservoir, heat exchanger, and filter then the MCS may be the best option for your application. An MCS is tested and shipped with a matching pump, just as all of our units are.
The MCS includes many of the "Industry First" innovations developed by Harrison, like the rest of our Premium Hydraulic Generators. Depending on your individual requirements for your installation, Harrison will create your custom system using our 40+ years of experience to ensure your installation is the best it can be!!! Our Region Managers will work directly with you to develop your system; a benefit not offered by ANYBODY else in our industry!!!
Like ALL Harrison Generators, the Modular Component Series is built to be maintained. All maintainable parts are top accessible in under a minute; truly built with the MECHANIC IN MIND!!!
For over 40 years, Harrison has been the one name professionals have staked their lives on; and the lives of others. Consider the competitive advantages of Harrison's MCS Series Hydraulic Generators.
Features & Benefits
Smallest footprint available on the market today
Motors operate at 98% efficiency and are built with cast steel housings
Bent axis piston motor; more efficient and longer life than gear motor
Perfect alignment and stronger coupling
Modular design allows for a more versatile installation
"Plus Powered" Alternator is standard
Remotely mounted reservoir
Incredibly "Maintenance Friendly"
"Flow-Thru" Ventillation System
Backed by the most comprehensive warranty and service in the industry
Alternator Detail
Design: Brushless, revolving field, two-pole, 3600 rpm for 60 Hz or optional 50 Hz operation
Rating: See nameplate for individual rating
Regulation: (+/-)5% voltage regulation from nameplate rating
Waveform: Harmonic distortion limited to 7%
Insulation: Class H, 200 degrees F, slot insulation, varnish, and copper windings
PF: 1.0(unity) for single-phase units
Hydraulic System
Type of oil: Use a premium grade hydraulic oil, such as Mobile DTE series oil or an equivalent
Viscosity: Optimum operating viscosity is ISO 46 for best performance in all conditions
Capacity: The reservoir capacity will vary with each generator. Please see the "Reservoir Capacity" in the generator specifications.
Hydraulic Pump
Min Input: 900 rpm - 1150 rpm
Max Input: 3000 rpm - 3300 rpm
Displacement 80cc or 45cc
Max Temp: 204 degrees F
Min Temp: -15 degrees F
Weight: 78 lb
Max Torque: 295 lb ft
Pump Shaft: SAE-B 7/8" 13T Splined / SAE-BB 1.00" Keyed / SAE-C 14T Splined / SAE-C 1.25" Keyed
Max Pressure: 5,000 psi
Max Vacuum: 10.0 inHg
Specifications Text
The generator shall be one (1) Harrison MCS Hydraulic Driven Generator rated at ________ watts, ____/____ amps, 120/240VAC, 60Hz, 1-phase.
The generator shall be designed and assembled by a company with no less than 20 years of experience in the manufacture of hydraulic-driven generators.
The generator shall use a single heat exchanger to cool the hydraulic oil.
The generator shall use an industrial-type alternator with heavy-duty bearings and a brushless design.
The generator shall use an axial piston hydraulic motor.
The generator shall use an axial piston variable displacement hydraulic pump.
The generator shall use a meter to monitor the frequency, voltage, and amperage of each leg.
Hydraulic System
The generator shall have top access to the oil filter, oil fill tube, and electrical interface box.
The generator shall not utilize electronic controls or a multiplex system to control the frequency.
The generator shall be capable of producing the full nameplate power when driven from the vehicle PTO from idle to maximum engine speed.
The generator shall be capable of being used while the vehicle is either stationary or in motion.
The generator shall be capable of normal operation using a commonly available premium hydraulic oil; Mobile DTE series or equivalent. All fluid service points shall be in close proximity to the reservoir for ease of scheduled maintenance.
When properly installed, the generator shall be warranted for a period of not less than two (2) years or 2000 hours, whichever should come first.